Guidelines and Instructions for the Online Live 

Satsangs

with Shanti
Guidelines for participation via Zoom

---
The Online Live Satsangs with Shanti are broadcasted via "Zoom".
Zoom is a platform for broadcasting videoconferences. After your registration and payment on Eventbrite, you will get the access link for the Online Live Satsang via email approx. 30 minutes before the event starts.
If you do not already have Zoom, when you click the link it will automatically download.
Please click "ok" for every notification that will appear during this process. You will then be asked for your name and email address. After entering them both, you will be connected to the livestream.
If you encounter any difficulties or have further questions, we are happy to help. Please contact Shiva (shiva@shanti-satsang.de) or Valkyria (valkyria@shanti-satsang.de).
Generel Guidelines

---
Please familiarize yourself with the following guidelines before joining the Online Live Satsang with Shanti.
This Satsang is live and will be recorded. We may publish your interaction afterwards. Unfortunately we cannot allow private recordings and/or replications. However, apart from a few exceptions, Online Live Satsangs with Shanti will generally be published on Shanti's website and YouTube Channel, where you can watch them for free.
With your participation you automatically agree to a publication of the visual and audio recordings.
Please make sure, that there are no distractions in the background. Reduce the background noise and movements to a minimum.
When participating via computer, please make sure that your phone is switched off, or set to flight mode.
When participating via phone, activate the flight mode, turn on the wifi and activate the "do not disturb" feature. Only then are you invited to connect to the livestream.
Technical Requirements
For your participation at the Live Satsang you need a computer, a tablet or a smartphone with internet.
Please make sure you have a well working web-cam and microphone. We kindly ask you to test them in advance.
When experiencing technical difficulties with your devices (inoperable microphone or camera, unstable internet connection, etc.) we will move on to the next person.
Camera Guidelines
Please make sure that your environment is lit well enough.
Keep your camera at eye level.
Guidelines to interactions with Shanti during the Satsang
As soon as the stream starts, you will be able to "raise your digital hand". This feature is visible when hovering with your mouse at the bottom of the screen.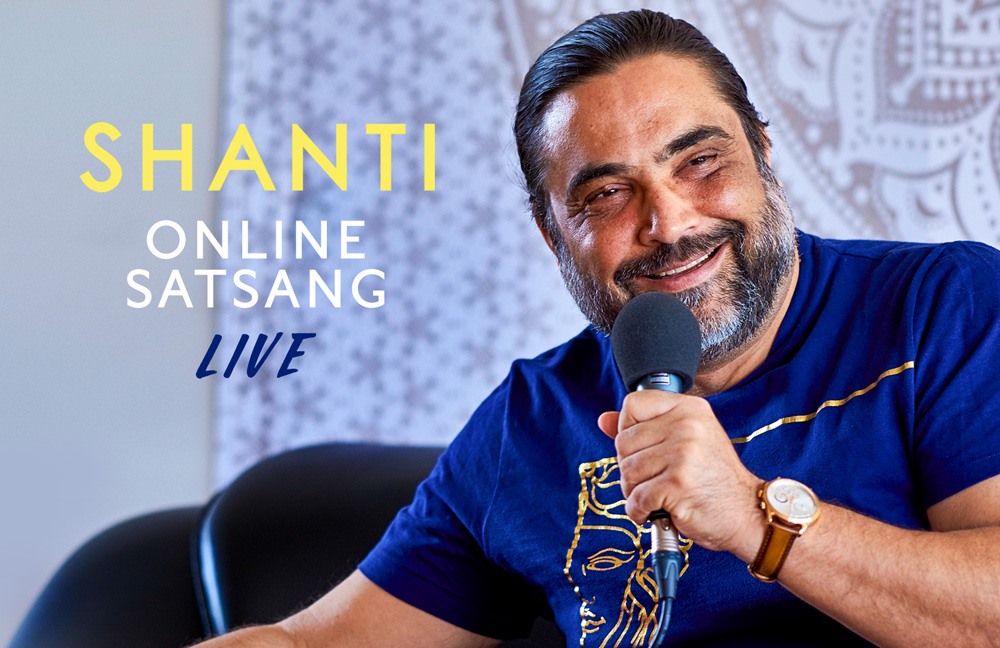 Next Online Live Satsang:
Online Live Satsang (german)
Online Satsang Intensive (german)