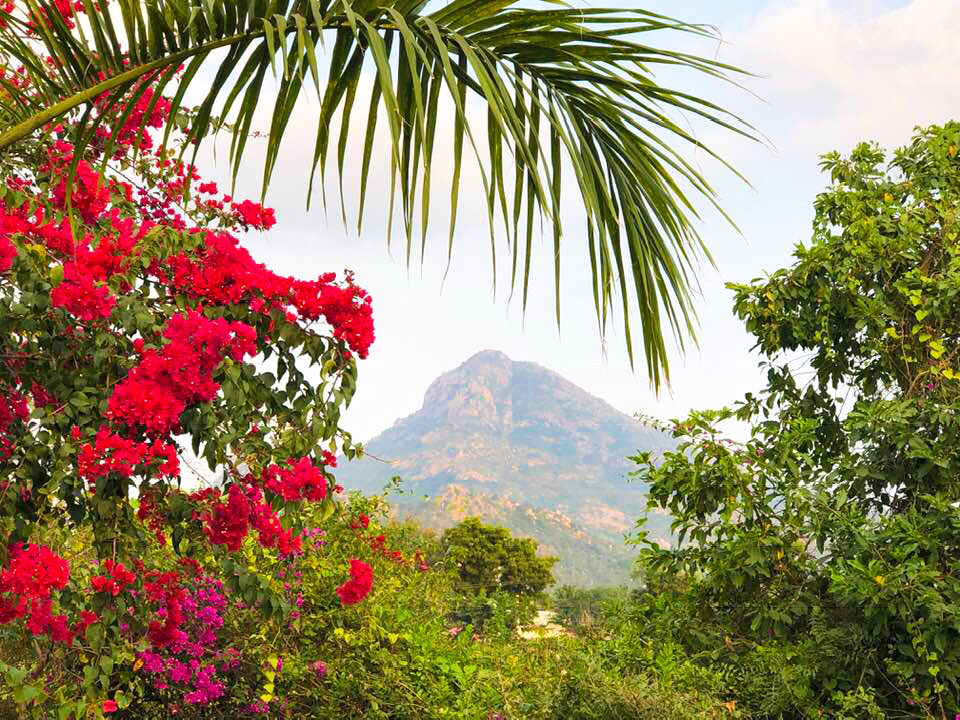 Arunachala Retreat, Tiruvannamalai (India)
–
Mountain Retreat Center
No. 116, Kottangal Village, 606601 Tiruvannamalai, India
Arunachala (Sanskrit: "the mountain of the dawn")
It is the holiest mountain of the Hindus, more significant even than mount Kailash. For Europeans and all non-Hindus it is a special place of power with extraordinary Indian magic. And for all friends of "being" and "inner peace" it is also "the" place on the outside at which the inner peace is felt at its most intense.
Sri Ramana Maharshi the biggest amongst Indian spiritual teachers, lived at the foot of Arunachala from the age of 17 up to his physical death.
Residents report that at the time of his death they saw a pillar of light which passed from his body to the mountain. During his lifetime, Ramana emphasised that Arunachala is not really a place on the outside but the true heart of the being which resides in each of us and is beyond any religious believes.
We will be residing directly at the foot of the mountain Arunachala and experience daily Satsang with Shanti. The rest of the time can be designed individually. Participants are free to choose between enjoying the peace and quietness at the retreat center, trekking and hiking the mountain, visiting temples in the area or going shopping at the Indian bazar.
At Arunachala you can find exquisite Indian cuisine and European dishes. In South India you can enjoy delicious Indian coffee, as well as tea and the famous "Chai".
Retreat prices:
89,- EUR per day

Booking options:
Minimum booking – 3 days
Last arrival after Retreat Start, is on 13th of Feb.
Last departure before Retreat End, is on 16th of Feb (last Satsang would be in this case on 15th of Feb)
How to get there:
Closest airport is Chennai (MAA). Many airlines fly to Chennai directly. Place of retreat is Tiruvannamalai which is at the foot of the mountain (approx. 200 km South-West of Chennai)
Accommodation:
A large variety of accommodations can be found through the internet and should be booked in advance. http://www.holidayiq.com/thiruvannamalai/search.php
We recommend retreat participants to book accommodation at the premises of the retreat centre itself http://www.themountainretreat.in.
For information and registration please e-mail: team@shanti-satsang.de